RESCHEDULED: Only the Ball Was White: A Discussion of the Negro Leagues
November 13, 2022 @ 7:00 pm - 9:00 pm
Join us to hear from Dr. Ken Clarke and Dave Moriah for a discussion of African American baseball before the days of Jackie Robinson.
Rev. Dr. Ken Clarke is Director of the Tompkins County Office of Human Rights and former Director of Cornell United Religious Work (CURW). He is a veteran preacher, teacher and public speaker on spirituality, religion, politics, pop culture, higher education, social justice and human rights. A Baltimore Orioles fan, his encyclopedic knowledge of African American history includes a mastery of baseball history.
Dave Moriah is founder of Cornell Outdoor Education and creator of one of Outward Bound's first urban centers in Minneapolis-St. Paul. A former NY Mets batboy, he is a lifelong baseball fan who has interviewed many professional ballplayers, published a number of articles on baseball, and is an endless source of utterly wacky anecdotes and stories.
Together Dave and Ken offer tremendous knowledge and insight into this important and interesting dimension of American history. Dave will also bring some old memorabilia to show. Join us for what is sure to be a lively discussion.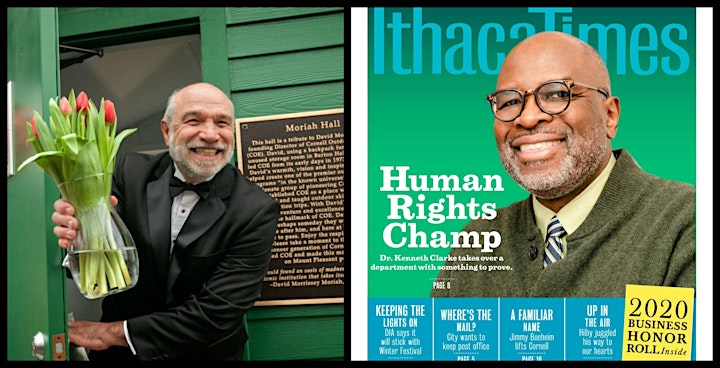 PLEASE RSVP. When registering, please indicate the number of persons in your party. Teenagers are MORE than welcome and encouraged to attend. If you know of other community members you think would especially appreciate this event, please feel free to let me know: kej3@cornell.edu.
PS No need to worry about bringing eventbrite tickets. Just RSVP and then come as you are.