The Holiday Market at the Square
November 26 @ 10:00 am - 4:00 pm
Free - $15.00
The Holidays are approaching and we can't wait to support our local movers and shakers in the Rochester Community!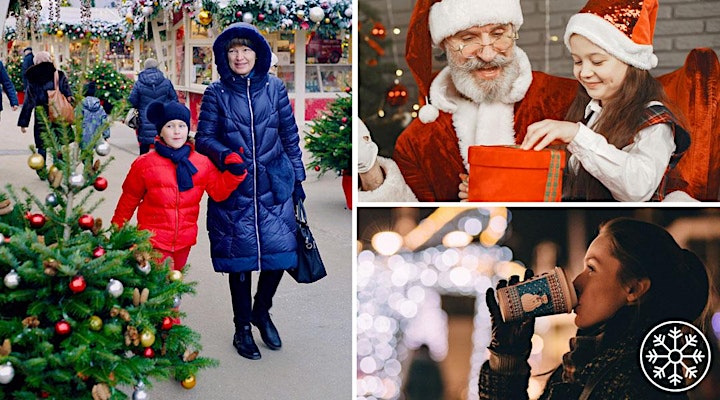 **Please enter event by big wreath near new LA Fitness and Starbucks facing RT31**
Here is what to expect the day of the event!
Shop Local Vendors & Food Trucks
We have an array of vendors all from the Rochester area showcasing their goods and services. Check out our website for a list of vendors!
Huge Local Gift Giveaway
Price: Free
This gift basket is incredible and stuffed full of all local products for you to enjoy or even gift this holiday season. Sign up at check out to be entered to win!
Pictures with Santa
Price: $15
Please select the ticket option and time slot. Time slots are 1 hour windows where you can arrive at any time during that window.
Horse Drawn Wagon Rides
Price: $5/person
Winter Horse Drawn Wagon Rides hosted by the Winter Festival of Lights happening from 10:30am to 12pm. Santa and Mrs. Clause will be arriving to the event by the Horse Drawn Wagon at 10:30am. Chance to pet the horses and enjoy a horse drawn wagon ride at the Holiday Market at the Square! No time slot required.
Music Performance
Music will be performed by Girls Rock Rochester, a non profit organization dedicated to using music creation and performance as tools for cultivating self-confidence in girls and LGBTQ+ Youth. A portion of the event proceeds goes to the non profit to help inspire young girls to learn and express themselves through music.
Schedule of the Day:
10:00 am – 4:00 pm – Local Vendors Open!
10:30 am – Santa and Mrs. Claus Arrive on Horse-Drawn Wagon
10:30 am – 4:00 pm – Photos with Santa Presented by Hype Booth (Please purchase ticket option "Photo With Santa" at check out)
10:30 am -12:15 pm – Live Performance by Amanda Ashley
12:45 pm -1:30 pm – Christmas Caroling by Girls Rock Rochester
1:45 pm – 2:45 pm – Live Performance by Girls Rock Rochester
3:00 pm – 4:00 pm – Holiday Karaoke!
We cannot wait to see you there!! For more information check out our website
Interested in becoming a vendor? Please apply here www.brand52agency.com/holiday-market
Vendor Applications close on November 22nd.